5 Bucks a Foot Presents "Double Your Dirt"
"Double Your Dirt"! Santa Cruz Bicycles' PayDirt program is matching your donation!
"Double Your Dirt"! Santa Cruz Bicycles' PayDirt program is matching your donation!
5 Bucks a Foot is back for 2022! Help us keep our continued trail building efforts alive and earn a chance to win this custom Santa Cruz Megatower!


Click to View Larger Image
This year, we are going to "Double Your Dirt" through a collaboration between Santa Cruz Bicycles' PayDirt program and the #dirtmagic Sierra Buttes Trail Stewardship (SBTS) creates building new trails for all to enjoy, especially trails like the legendary Downieville Downhill where the new Megatower devours that gnarly singletrack!
For every five dollar donation, you'll help us build or maintain a foot of trail as well as receiving an entry for your chance to win the Megatower, plus PayDirt will Double Your Dirt by matching total feet of trail purchased up to $75,000. Talk about a win-win!
Santa Cruz Bicycles has been SBTS's biggest supporter since its founding in 2003, and their PayDirt advocacy program has donated $1 million towards trail and advocacy projects across the globe, with more to come. The more feet of trail you purchase, the better your chances of winning this styled out Santa Cruz Megatower, and with the PayDirt match your Five Bucks a Foot donation turns into ten bucks to build and maintain even more trails!
And when we say a styled out Megatower, we mean it.
This is a bike worth more than $10,000! It brings the bling, including premium components from our generous partners at Shimano, Fox, WTB, Paul Component Engineering, White Industries and Reserve Wheels. Since this is an international campaign, anyone in the world has a chance to win this beauty.
For the last three years, SBTS has been developing Connected Communities, a legacy trails project connecting 15 mountain communities across five Northern California counties and into Washoe County, NV through a 600+ mile network of trails for motorized and non-motorized use, known as the Lost Sierra Route. Connected Communities will help revitalize these economically depressed communities through recreation, visitation and a new generation of full-time residents who value quality of life through world-class recreation opportunities.
SBTS creates many of these trail opportunities through grant funding from the California Off-Highway Vehicle (OHV), Recreational Trails Program (RTP) and partners at Sierra Nevada Conservancy. But there are other projects not eligible for this funding and that's where funds from 5 Bucks a Foot come in. Over the years, 5 Bucks a Foot has helped fund numerous projects including:
Mills Peak trail in Graeagle
North Yuba trail in Downieville
Gold Valley Rim trail in Downieville
Beckwourth Peak trail in Portola (now being built!)
South Park trail network in Quincy
Trails maintenance in Lakes Basin Recreation Area
Planning for new trails in Mount Hough and Claremont Peak in Quincy
The money raised in this year's 5 Bucks a Foot campaign will help many more exciting projects on the horizon, including a new singletrack connection from Taylorsville up to the existing Mount Hough trail that's breaking ground this summer. The 19-mile Beckwourth Peak trail in Portola is being built currently, thanks to funding support from previous 5 Bucks a Foot campaigns.
Double Your Dirt this summer with the 5 Bucks a Foot program by purchasing as many feet of trail as you can, and maybe you'll get to sample all the #dirtmagic goodies in the Lost Sierra on a brand new Santa Cruz Megatower! Enter July 26 through Tuesday, August 23rd, before 11pm PST, 2022.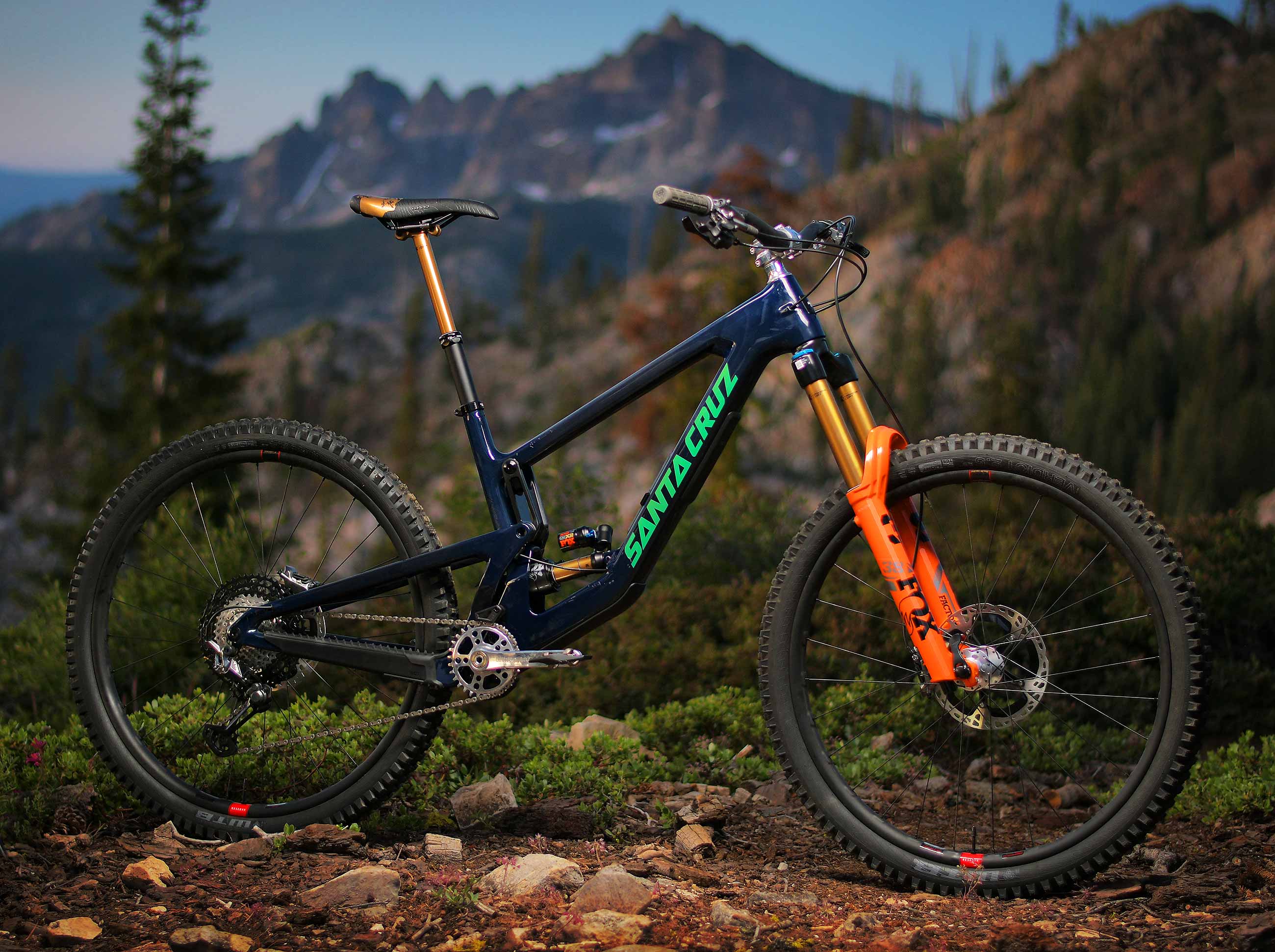 The MegaTower on the Gold Valley Rim Trail, a trail $5 donations have helped build! - Click to View Larger Image
The Fully Custom Built Megatower Specs
Other Bits
MRP XCG Bashguard
DT Swiss spokes, and nipples
Orange Seal Sealant
Get in This!
---
"5 Bucks a Foot Presents 'Double Your Dirt'" Terms & Conditions
The "5 Bucks a Foot Presents 'Double Your Dirt'" fundraiser is open to contestants worldwide. By participating in the "5 Bucks a Foot Presents 'Double Your Dirt'" fundraiser, you consent to SBTS sending you additional information and updates related to this donation drawing and other SBTS news. No purchase necessary to enter. To enter without purchase, you may mail a handwritten postcard (form) to SBTS at: SBTS, 550 Crescent Street, Quincy, CA 95971. Containing your (i) full name (if a minor, your parent/legal guardian's name is required); (2) mailing address, including street address, city, state/district, and zip code (P.O. boxes not accepted); (3) telephone number; (4) email address; and (5) date of birth. All write-in entries must be postmarked by August 19, 2022 and received by August 23, 2022 and only one mail in entry per person will be accepted. All submission forms must be received no later than 11:00 p.m. PST on August 23, 2022. Contributions to "5 Bucks a Foot Presents 'Double Your Dirt'" are tax-deductible. The winner understands, acknowledges, and agrees that the winner is receiving a prize and will hereby release and discharge SBTS, and any additional sponsors, their employees, agents, officers, directors, and legal representatives and assigns from any and all claims, liabilities, damages, losses or expenses arising from or caused by the award of such prize, including, but not limited to the payment of any and all taxes that are due.