Enter 5 Bucks a Foot
Thanks for getting us to our goal, together, we set a record!!
We are no longer accepting donations on this campaign, but there are other ways for you to support us today!
Help Us Connect Communities and Build the Lost Sierra Route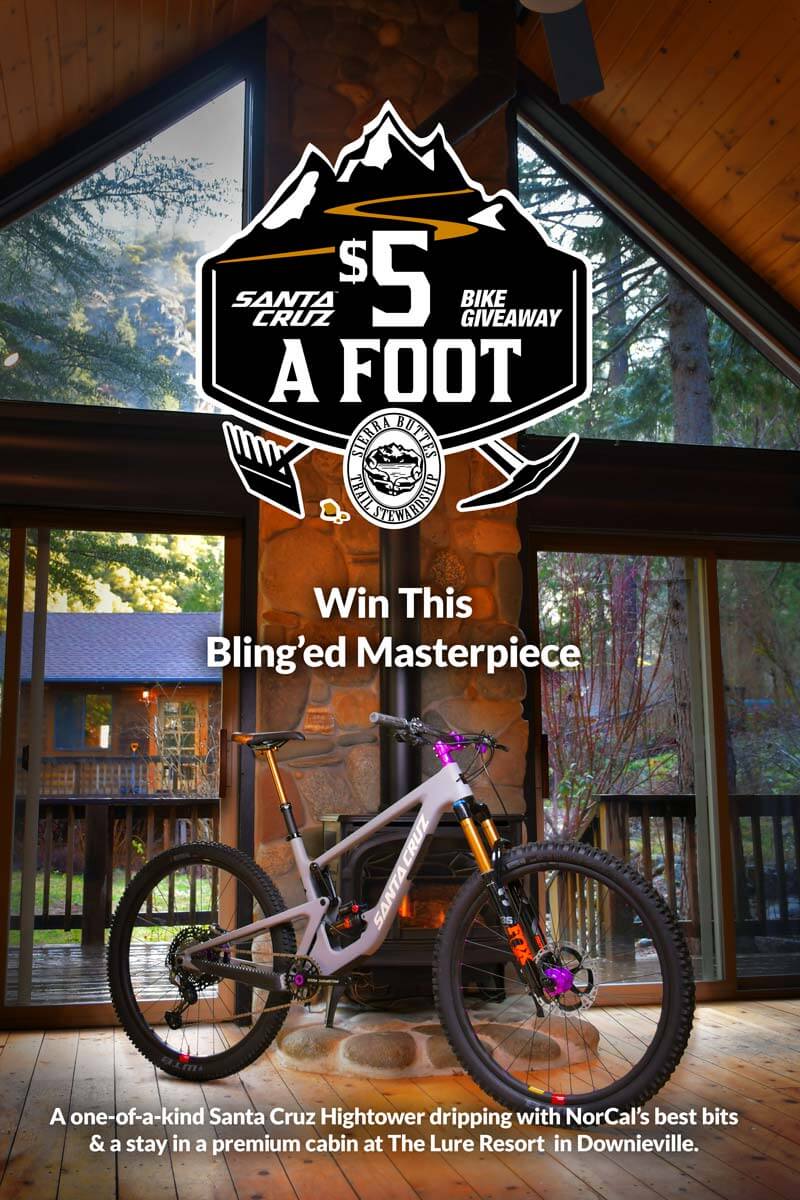 We are building a legacy trail – the 300+ mile Lost Sierra Route – through our Connected Communities Project. The building and maintenance of "A Trail for Everyone" will employ local residents and help our small businesses thrive. For every $5 you donate to 5 Bucks a Foot between Tuesday, June 8 to Friday, July 9, 2021, you can directly contribute to this project and possibly win this sweet ride.
We got lucky enough to assemble this bling'ed masterpiece: a one-of-a-kind Hightower (size Large) decked out with parts you can't even get your hands on these days. And if you want to come pick it up in-person*, you can receive complimentary lodging at The Lure in Downieville, CA for the weekend. Come out and ride the Downieville Downhill on your brand-new bike!
Get your shot at a decked out custom Santa Cruz Hightower (size Large) while helping fulfill the Connected Communities vision? Donate today and help play a critical role in creating Dirt Magic for all the public to enjoy.
Please note that due to unprecedented supply and demand challenges, this year's 5 Bucks a Foot fundraiser will feature a specific bike - one Santa Cruz Hightower (size Large) - as opposed to one's choice of any Santa Cruz bike in any size. Given the historic demand for bikes, we're just thankful that Santa Cruz and our other industry bike partners could come together to make a new, customized bike for 5 Bucks a Foot!
*If you pick up the Hightower, a weekend stay at the Lure Resort is also included. We will coordinate your stay with the lodging staff at The Lure to verify dates and availability. The winner must pay all of their other traveling expenses (except The Lure lodging) to get to and from and while staying in Downieville.